A Late Thirteenth-Century Manuscript Leaf from a "Book of Hours"
(L. Horae), Paris.
Note: the text contains a portion of the Office of the Dead, the funeral mass for burial. The priest would sing most of the text, and the worshipers would sing the responses which are set to musical notation at the bottom of the page. This leaf was one of six from the same codex which were offered for sale at a medieval studies convention in 1996. The volume from which they were taken had been broken up for sale by a previous owner, based on the unfortunate fact that it was worth more sold "by the leaf" than sold intact. Thus the codex's leaves have been scattered by the forces of modern commerce after surviving together for half a millenium.
[RECTO or Right Side of Open Codex]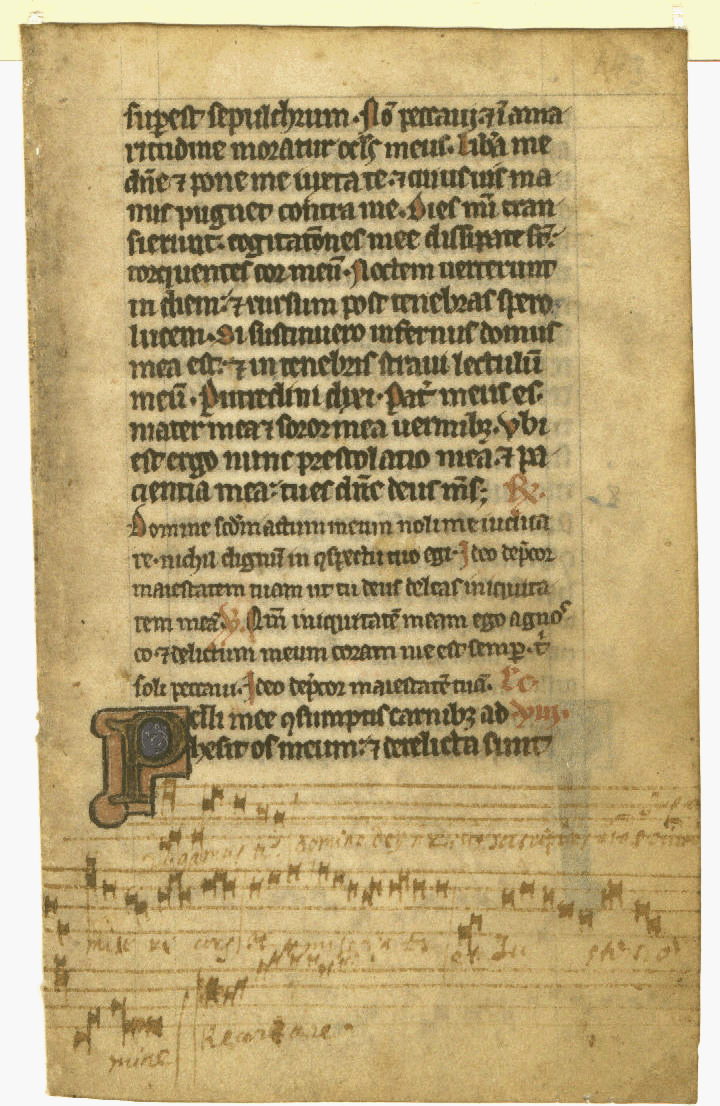 Text and translation (King James Version)
Boldface = surviving text / Normal = context on missing leaves or excluded by compiler
[RECTO or Right Side of Open Codex]
Seventh Lesson of the Office of the Dead (cont. from missing leaf)
Job 17: frag. 1 and 2-3
1 spiritus meus adtenuabitur dies mei breviabuntur et solum mihi superest sepulchrum
2 non peccavi et in amaritudinibus moratur oculus meus.
3 libera me et pone iuxta te et cuiusvis manus pugnet contra me
KJV
1 My breath is corrupt, my days are extinct, the graves [are ready] for me.
2 [Are there] not mockers with me? and doth not mine eye continue in their provocation?
3 Lay down now, put me in a surety with thee; who [is] he [that] will strike hands with me?
Job 17: 11-15
11 dies mei transierunt cogitationes meae dissipatae sunt torquentes cor meum
12 noctem verterunt in diem et rursum post tenebras spero lucem
13 si sustinuero infernus domus mea est in tenebris stravi lectulum meum
14 putredini dixi pater meus es mater mea et soror mea vermibus
15 ubi est ergo nunc praestolatio mea et patientiam meam quis considerat
16 in profundissimum infernum descendent omnia mea putasne saltim ibi erit requies mihi
KJV
11 My days are past, my purposes are broken off, [even] the thoughts of my heart.
12 They change the night into day: the light [is] short because of darkness.
13 If I wait, the grave [is] mine house: I have made my bed in the darkness.
14 I have said to corruption, Thou [art] my father: to the worm, [Thou] art my mother, and my sister.
15 And where [is] now my hope? as for my hope, who shall see it?
16 They shall go down to the bars of the pit, when [our] rest together [is] in the dust.
Response: Domine secundum...
Versicle: Quonium iniquitatem...
Eighth Lesson of the Office of the Dead (complete)
Job 19: 20-27
20 pelli meae consumptis carnibus adhesit os meum et derelicta sunt
[At the foot of this page, the eighth lesson's response is set to music. The rest of Job 19 is continued on the verso side of the leaf, below.]
[VERSO or Left Side of Open Codex]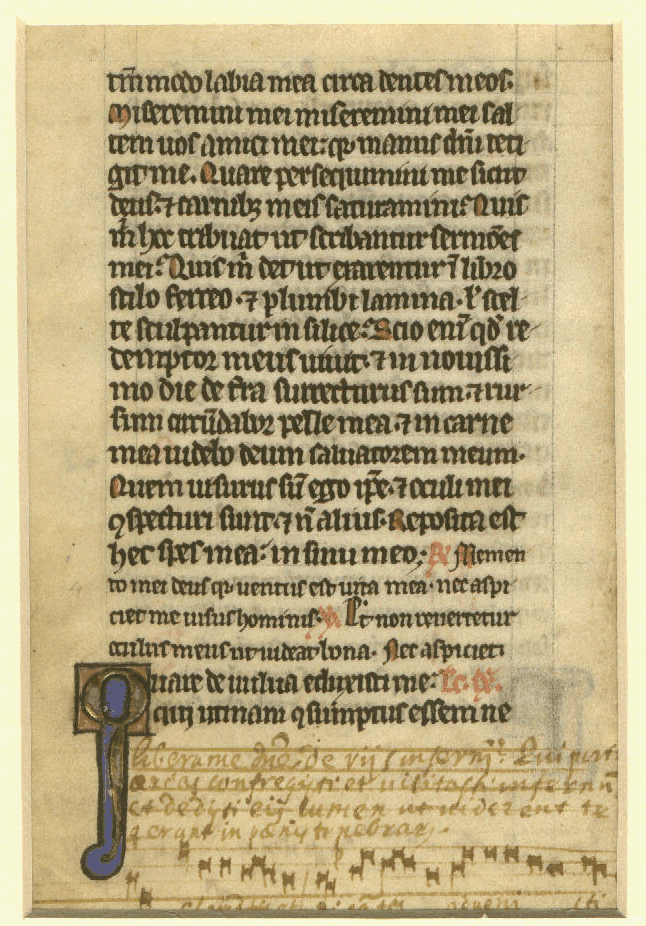 [VERSO or Left Side of Open Codex]
20 [continued from Recto above] tantummodo labia circa dentes meos
21 miseremini mei miseremini mei saltim vos amici mei quia manus
22 quare persequimini me sicut Deus et carnibus meis saturamini
23 quis mihi tribuat ut scribantur sermones mei quis mihi det ut exarentur in libro
24 stilo ferreo et plumbi lammina vel certe sculpantur in silice
25 scio enim quod redemptor meus vivat et in novissimo de terra surrecturus sim ihi
26 et rursum circumdabor pelle mea et in carne mea videbo Deum
27 quem visurus sum ego ipse et oculi mei conspecturi sunt et non alius reposita est haec spes mea in sinu meo
KJV
20 [My bone cleaveth to my skin and to my flesh, and I am escaped] with the skin of my teeth.
21 Have pity upon me, have pity upon me, O ye my friends; for the hand of God hath touched me.
22 Why do ye persecute me as God, and are not satisfied with my flesh?
23 Oh that my words were now written! oh that they were printed in a book!
24 That they were graven with an iron pen and lead in the rock for ever!
25 For I know [that] my redeemer liveth, and [that] he shall stand at the latter [day] upon the earth:
26 And [though] after my skin [worms] destroy this [body], yet in my flesh shall I see God:
27 Whom I shall see for myself, and mine eyes shall behold, and not another; [though] my reins be consumed within me.
Response: Momento mei . . .
Versicle: Et non revertetur . . .
Ninth Lesson of the Office of the Dead (fragment cont. on lost leaf)
Job 10: 18-19 [20-22 missing on next leaf]
18 quare de vulva eduxisti me qui utinam consumptus essem ne oculus me videret
19 fuissem quasi qui non essem de utero translatus ad tumulum
[20-22
20 numquid non paucitas dierum meorum finietur brevi dimitte ergo me ut plangam paululum dolorem meum
21 antequam vadam et non revertar ad terram tenebrosam et opertam me ortis caligine
22 terram miseriae et tenebrarum ubi umbra mortis et nullus ordo et satempiternus horror inhabitans ]
KJV
18 Wherefore then hast thou brought me forth out of the womb? Oh that I had given up the ghost, and no eye had seen me!
19 I should have been as though I had not been; I should have been carried from the womb to the grave.
20 [Are] not my days few? cease [then, and] let me alone, that I may take comfort a little,
21 Before I go [whence] I shall not return, [even] to the land of darkness and the shadow of death;
22 A land of darkness, as darkness [itself; and] of the shadow of death, without any order, and [where] the light [is] as darkness.
Response: Libera me
[At the foot of the recto, the 9th lesson's response is set to music.]
NOTE: On the King James Version of the Bible
The Renaissance translators were very free in their rendering of the Vulgate's Latin. If you would like to see a more faithful translation (in the sense of being less likely to introduce new images or omit original usages!), consult the Douay-Rheims translation. It was prepared by the Catholic Church during the Counter-Reformation (NT, 1582 / OT, 1609-10) to combat the circulation of Protestant translations with which the Roman church disagreed. Its text is closer to the version Chaucer would have known in Latin during the fourteenth century. Click here to read it: