ENGLISH 341 / Book Studies 341: Archeology of Text:
Archival Research Methods and "the Book" in the Internet, Print, and Manuscript Eras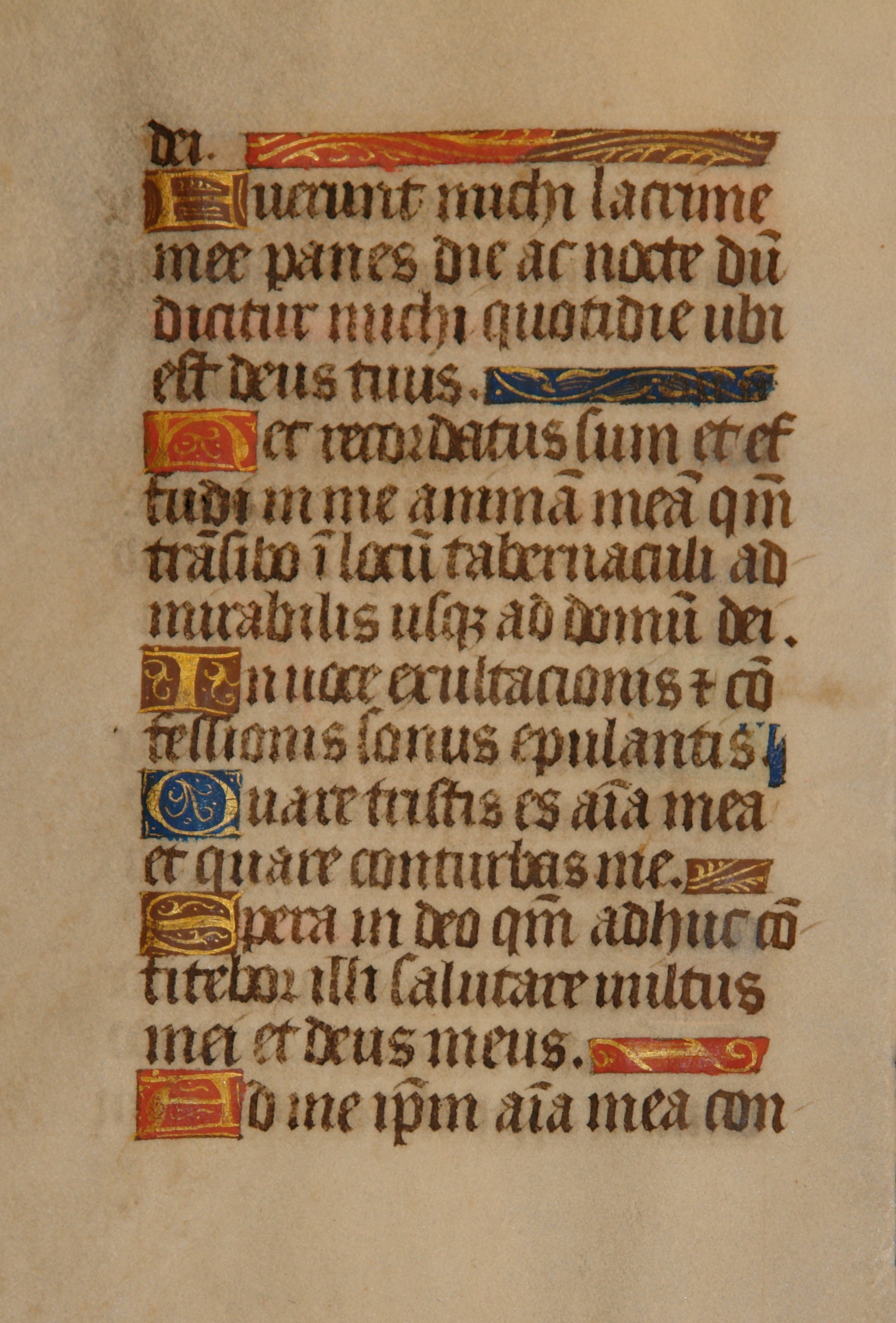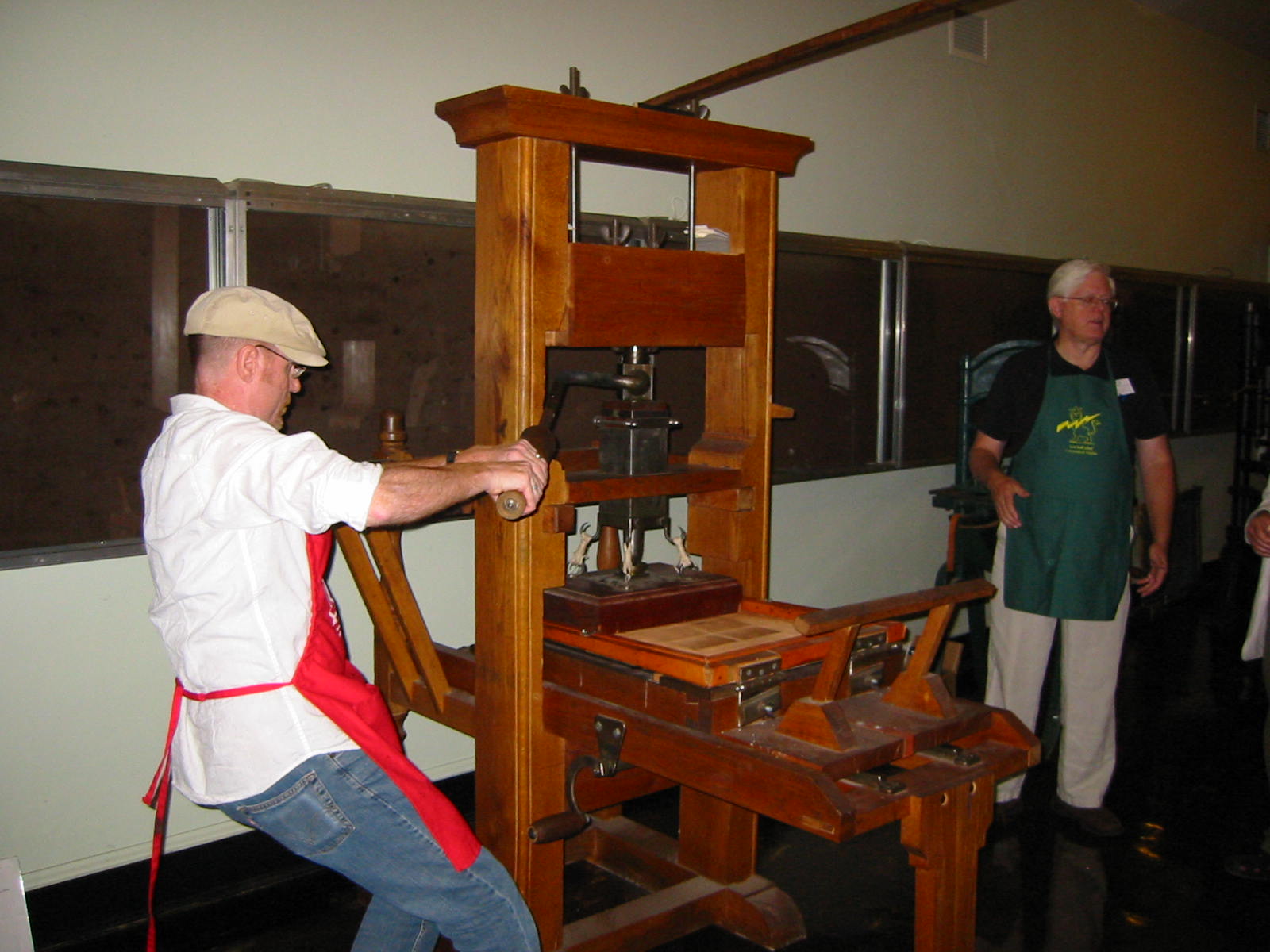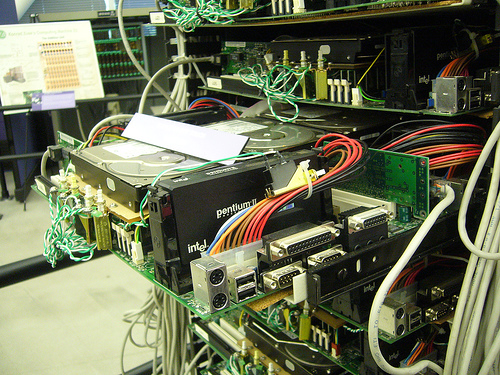 Manuscript leaf from a Book of Hours A printer working a wooden hand press 1st Google server (Takuya Oikawa, Flickr "Computer History Museum")
Fall 2017 (TuTh 1:30-3:20) Athenaeum Room 435 (Special Collections and Archives, 4th floor)
Instructor: Arnie Sanders, Emeritus Professor of English, VM 141 (x6515) and Library Special Collections (Last edited: 10/1/2017 18:00)
Office Hours, Fall 2017, afternoons when the course meets, and by appointment (just call or email at least 24 hours in advance)
Site News: 10/16/17--On Tuesday, we will begin class by updating on Canvas all work done to date on the cadaver books, and doing the obvious and easy things that I have been asking from the five students (of 13!!) who have posted some basic evidence so far to demonstrate that they can do some descriptive bibliography. Remember this course builds cumulative skills. I cannot let the class start the hand-press book leaf lab (scheduled to start Tuesday) until everyone has at least attempted some basic "desbib" on your cadaver books. After part or all of two classes, plus out-of-class access for weeks, I expect all the class to have recorded the following on Canvas before we start the lab: an image of the title page or title pages, and the colophon if the book is old enough to have one (i.e., look at the back of the book, not just the front!); a transcription of at least one title page (if you have more than one), including description of any printers' marks; the edition's format detected by chainlines and (if present) watermarks; the edition's pagination or foliation, which can be readily detected by gently flipping through the pages from front to back and noting whether there are changes (e.g., Roman lowercase or unpaginated front matter followed by Roman or Arabic numerals for the main text) that restart the numbering if it is a Sammelband or a printer's collection of more than one edition (compare printers, publication places and dates--if they differ, it's a Sammelband put together by the buyer, and if not, it's the printer's decision and it's really "one edition with multiple parts"). If the class has accomplished that much already, please take advantage of the head start to push on to binding signatures and lists of contents. I don't expect everyone to finish, just to start. Because if students do not start, they won't be able to do the leaf lab, and we want everyone to succeed in that lab.
Remember this a forensic art or science. The cadaver books are like murder victims who died with their identification materials (license, credit cards) in their pockets. The leaf lab materials are like pieces of a murder victim who was dismembered and has lost all official identification materials. Think about what the leaf lab materials do not have that the cadaver books offer you as evidence of their identity. They are a fraction of the original edition, and though there are runs of continuous leaves, some leaves are missing from the midst of the set of nineteen. There is no title page or colophon. There is no preface or afterward or table of contents or index that might directly help you identify the author and title of the work you are reading, the printer who edited and printed it, the printer's source (direct from manuscript or from a previous printed edition?). What's left? We will have to work together as a team to make sense of it: compare the article announcing the discovery of the kilonova Swope Supernova Survey 2017 a, an astrophysics publication with "roughly 3500 authors."
Paper--in what direction are our chainlines running and where are our watermarks--and what does that tell us about this edition's format?;
what is your volume's tallest page height and widest page width in centimeters (to the millimeter)?;
does the paper appear fine or crude, "southern" (French, Italian) or "northern" (German, Netherlandish)?; can we find our watermarks in Briquet Online or any other watermark catalogues?
The text, itself--what language is it written in?; what is the content?; is it an original composition, a translation, a paraphrase, etc.?; can we detect its author even without having a title page?
The typography--what font is used and can we find its capital "M" in Haebler's incunabula font "M" series or one of the other typographic indices?; can we find online images of the text, itself, in the font type (Gothic or Roman?) and style and point size that might match our leaves' fonts?
The page layout--do our pages have running headers?; do they have pagination or foliation, and how does the numbering run for the leaves in our possession?; where are the folio or page numbers on the page, in a header or footer?; do we have leaves with binding signatures in the footer and if so, how do they run?; do our leaves have "catch words," little fragments of the next page's text at the bottom right corner of the footer to help printers impose the set type properly on the forme (and also a slight but unintentional aid to people reading aloud)?; how many lines are there in a typical page and is the page layout single- or double-column?; do the pages have ornamental capitals at the start of sections?; are there any woodcuts or engravings?
Paratext--do all or any pages contain paratextual apparatus that the printer might have added which might help us identify which among similar editions we are looking at?; how is our text "pointed" or punctuated, and what characteristic abbreviations are used throughout?; are there any older or newer (for the Renaissance!) spelling conventions that you notice?; does the content tell you anything about the era in which a book of this type must have been printed?
Remember to keep in touch with the cadaver books from now until the end of the semester. If the first cadaver book was unsatisfying, might try switching to another. Small format books (duo- or sextodecimo) are more difficult to work with than large octavos, quartos or folios because the original sheet has been cut up so much that watermarks, and even chain lines, are hard to make out. Larger format books give us access to more of the original sheet. I will teach more as we go along, but shortened and longer descriptive bibliography instructions are available from links on Tuesday's (9/26) class. Our goal is to be able to write accurate and thorough descriptive bibliography ("desbib") of hand-press books. It's part of the final writing assignment due in December.
When writing Paper 2 (due 11/4!) and trying to thank class members for help, remember that for them to get extra credit, the thanks must briefly explain specific kinds of assistance that readers can see and evaluate (so he can decide how much extra credit it's worth). As a good example, I offer the first endnote in Thomas J. Farrell's "Secretary a in Ellesmere's Latin Quotations" from the newly arrived "Chaucer Review" (52:4) 2017, p. 396: "I wish to thank a Stetson University Summer Grant that expanded my focus beyond the'Wife of Bath'sPrologue,' John Tichenor for helping me to parse numbers, Kenneth Clarke and Stephen Partridge for engaging with and challenging the argument, Alan Baragona for rhetorical advice, and an anonymous reader for "The Chaucer Review" for urging me to assert more fully the significance of my evidence."
Because your independent research projects might make use of either the Goucher Library's "Special Collections" or its "Archives," you might wish to consult this short Web page describing the differences between "collections" and "archives" as they affect the researcher.
It's possisble that you might want to specialize in working with parchment texts. To teach yourself more about parchment, look at Clarkson's sources, handle carefully lots of examples of parchment from various regions and eras, and read "Materials and Techniques of Manuscript Production," Medieval Manuscript Manuel (Central European University, Belgrade). An even better narrative explanation of parchment's invention and history is now available from Longreads in the form of "Hidebound: The Grisly Invention of Parchment," a chapter from Keith Huston's The Book (N.Y.: W.W. Norton, 2016). Keep in mind that when parchment became Europe's standard material for book production, books' two main purposes were legal and theological, and both functions were expected to last for hundreds, and even thousands of years. Hence, parchment books. How long will digital books last? Hint: if you hold your breath long enough, a fair number of them are already winking out of existence or becoming unreliable and difficult to read.
Independent Research Project Materials from Special Collections at Goucher College--the"libraries within the Library" Final Research Projects--Fall 2013. Click here for examples of projects pursued by the Fall 2011 class. Online Exhibits of Past and Present Research Projects
If you are interested in English/BKS 341, please consider registering for the Book Studies Minor. Other courses in the minor will allow you to follow your interests in many of the basic elements of bibliographic investigation we explore in 341, such as American readers' use of books from the revolution to the digital age, the art of the book, book binding, Goucher's Burke-Austen Collection, and the many other great rare book libraries of the Baltimore-Washington area.
Internship and Fellowship Opportunities for Qualified English 341 GraduatesThe World-Famous "Medieval Helpdesk" video Miscellaneous Summer Projects French 257: Introduction to Research Using Rare Books and Archival Materials Thomas Murray Collection online at the University of British Columbia Library: Bookplate images to help you determine provenance.
"There is no ignorance more shameful than to admit as true that which one does not understand: and there is no advantage so great as that of being set free from error." Xenophon, quoting Socrates, translated by F.J. Furnivall, a great and influential editor, shortly before his death on 2 July 1910.
Our motto: tolerate mystery as a precondition to discovery.
---
Summary
This interdisciplinary English course introduces students to archival research techniques using Goucher's Rare Book Collection and online digital archives, including cached web history like the Internet Archive. Working backward in time, from the present to the Medieval period, the course will survey the ways people have packaged and used written/visual information, from digital media to early printed pamphlets or books to manuscripts. Students who have completed the course will be equipped to do additional archival research in Goucher's archives for 200- and 300-level courses, and to work as "archival assistants" in the Special Collections division of the Goucher Library. This training also enables students to conduct research in authors' manuscript drafts of literary works, to pursue primary source research in Modern Languages, Hispanic Studies, History and Art History, and to apply their previous training in biology and chemistry to the forensic analysis of documents. Students with English 241 experience, and who have suitable proposals and letters of introduction from Goucher's librarians and a faculty member in the field, usually can get access to rare books and manuscripts in archives and special collections around the world. Students who successfully complete the course are strong candidates for Peirce Center Fellowships which pay stipends to support research in Special Collections during any semester, in January, or during the summer. Previous years' students have won competitive internships.
Student Learning Outcomes (vulgo dicta, "SLOs"):
1) Students will understand how digital text files are coded, stored, and how they may relate to manuscript or print versions of the text as a digital "edition." Students will understand how text files are retreived from the Internet, with special emphasis on text-base construction and maintenence, search engine use and awareness of the Internet's history as an ongoing element of the Archeology of Text. They will be aware of and able to compensate for (in most cases) the inevitable degradation and loss of digital texts due to causes such as "link rot," version incompatibility, hardware and software obsolescence, Darknet criminal activity, and ordinary commercial negligence or malfeasance. They will be able to describe and analyze Web site structures, text displays including images (still and full-motion), and other attributes of digital texts. Superior students will be able to create their own Web sites and digital editions of well-edited texts.
2) Students will be able to handle safely and describe accurately the structure of any modern or pre-modern printed book, including format, paper, typography, mise-en-page, and bindings. Superior students will be able to write near-perfect diplomatic transcriptions of early modern editions, with explanatory notes and appropriate bibliographic references. All students will be able to read, and to write, standard bibliographic descriptions following the Bowers-Gaskell rules. All students will be able to write rudimentary copy-specific notes that might be used in MARC entries for their own or the Library's rare book collection. Superior students will be able to write "desbib" for complex edition-copies, including those which do not fit the standard WorldCat or ESTC descriptions of their editions. All students will be able to use the Haebler "M" series table of incunabular founts, and to use standard typographic terms to describe type founts used to print any book. They will be able to detect, measure, and describe the dimensions, chain-lines, and watermarks in laid paper. Superior students will be able to use standard watermark collections to estimate the era and (sometimes) country of origin of a given book's paper stock. All students will be able to describe standard pre-modern bindings in terms of parchment or other binding materials, sewing patterns, backing bands, clasps, and other artifacts. They will be able to use tables of modern publishers' bindings to identify them on copies of post-1800 editions. They will be able to use the ESTC, WorldCat, and the Karlsruhe University online catalogues to assist in identification of the edition of a given copy of any pre-1800 book. They will have some experience of the use of ABEBooks.com, Alibris, and other online booksellers to estimate the rarity and relative worth of a given copy of a printed book. Superior students will become proficient comparative analysts of one or more authors' bibliographic output, and will be able to demonstrate the comparative worth of comparable edition-copies of a given work based on copy-specific points of description known to scholars in standard bibliographic references for the work.
3) Students will be able to work safely with fragile paper and parchment manuscripts, and will understand the basic scholarly vocabulary used to describe MSS. They will be able to read, and to date by era, some representative Continental and English manuscript hands from the Carolignian through the Victorian periods. They will be able to create at least rudimentary alphabets in Carolignian uncial, Gothic, and Gothic Bastarda hands. Superior students will be able to create their own manuscripts using calligraphic hands appropriate to the texts and audiences for which the MSS are intended. All students will be able to use the O.E.D., Thoyts, and other standard resources to interpret medieval and early modern documents. Superior students will be able to produce near-perfect diplomatic transcriptions, with explanatory notes, of modern, early modern, and medieval manuscripts.
4) Students will know and follow the rules for working in rare book libraries and archives, including hand-washing, and the use of pencils, low-wattage investigative lighting, millimeter rules, book cradles and snakes, and other basic analytical tools. Students will become familiar with the conventions of rare book librarianship and the conservation principles upon which those conventions are based. They will be safe and welcome guest scholars in rare book collections, and will be, themselves, worthy guardians of rare books and manuscripts for future generations.
5) English majors will use the skills and knowledge mastered in this course to meet these more general departmental SLOs:
Your interpretations [of English literature] will also be informed by your knowledge and understanding of:
a broad range of literature in English from the beginning to the present
the timeline of literary history, including the dates, chief characteristics, and major authors of recognized literary periods
canon formation
the historical, cultural, and social contexts in which literary works are produced, and to which they respond

the impacts that literature has had and continues to have on cultural/historical, social/psychological, and political change
"Academic Honor Code: Reference to the academic honor code is required of all course syllabi as a reminder to students. Suggested wording includes: Reminder: All students are bound by the standards of the Academic Honor Code, found at www.goucher.edu/documents/General/AcademicHonorCode.pdf." I distinguish between accidental forms of plagiarism, in which the author obviously intended to cite sources but cited them at the wrong place, from pure carelessness (no citations, even if sources are listed at the back) and outright theft of intellectual property intentionally passed off as one's own. The first type of cases usually are opportunities to teach and learn. The second type are more troubling and may go to the Honor Board if they happen late in the semester, after we have discussed source use and its importance to your readers. The last will be sent to the Honor Board without hesitation. Students also are increasingly content to cite sources long after their prose has begun to borrow ideas from those sources. That is technically plagiarism, too, but it has become so common that I must spend gallons of ink and hundreds of keystrokes un-teaching it. Never make me guess whose ideas I'm reading. Cite sources when you first depend on them. I want to know how well you can think, not how well your sources can think, which is a matter of historical record for anyone who reads them. Let there be a bright line of fire between ideas that are originally yours and those of other writers to which you refer.
---

.hits since 3/17/07
---