English/BKS 341 Final Project Opportunities:

A Partial Description of Major Special Collections in the Goucher Library

The James Wilson Bright Collection

Click on the link to see a somewhat imperfectly transferred XML spreadsheet of 577 Bright books.

Bright (1852-1926) was awarded the first English Ph.D. from Johns Hopkins University in 1882, and returned to JHU to teach until the year before his death. He taught 55 successful Ph.D. candidates in English philology, the history of the development of English usage and syntax. To support their work, he used his salary to build a collection of early printed books (C16-19) that represented examples of important Anglo-Saxon, Middle English, and Early Modern English usage. He also collected hundreds of books and learned journals containing contemporary scholarship in the field.

At the time of the collection's purchase by Goucher in 1926, it contained over 4,600 separately accessioned items, including many multi-volume sets of journals, many in continuous runs from their founding through the 1920s. So large was the collection that it took ten years to fully accession, and many of the books have never been given thorough bibliographic attention for their rarity and copy-specific interest. Many of his books are annotated, some by much earlier owners, and some by Bright, himself, or Frederick March, his undergraduate Anglo-Saxon teacher at Lafayette University.

Bright's publications include his Anglo-Saxon Reader and Grammar, which remained in print until 1971 and is now available in digitized form from numerous web sites. Bright books can be found in the Main Collection, and most are identifiable by their distinctive Bright-Goucher bookplate on the pastedown of the front cover. Some Bright books have no bookplate but still can be identified as belonging to his collection. On the back of the title page, you also can find an accession number for most books cataloged before the online catalog system came into use (c. 1990). The Bright accession numbers run from 41,401 through 46,350. If you find Bright books in the general collection, please bring them to Circulation which will send them to Special Collections for evaluation.

<![if !vml]>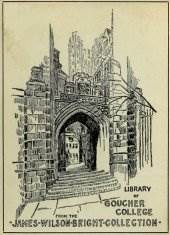 <![endif]>
The Henry and Alberta Hirschheimer Burke Collection:
Alberta Hirschheimer Burke was a Goucher alumna (1975) who married Henry Burke and settled in Baltimore. The Burkes collected all available editions of Jane Austen's novels, including as many translations as they could acquire, and collateral material about the era in which Austen wrote. In addition to first editions of Austens (some of which were published anonymously), they collected books on period furniture, architecture, interior décor, and clothing. These books are invaluable for Austen readers who are trying to visually recreate the scenes of her novels and to interpret subtle cultural references contained in them. The collection currently totals over 1000 volumes.
The Passano Collection on Women of the South During the Civil War:
Nell Foster Jacobs Passano, a Goucher alumna (1936), received an M.A. from Columbia University in early childhood education and taught all grades from nursery school to graduate school. Her ancestors include at least two men who were directly involved in the Civil War, and an early childhood experience inspired her to begin collecting books specifically about Southern women's experiences in the period. Many of her books came to her by purchase from the book dealer, I. H. Bullen of Meadville, PA and from his successor in the business, Thomas Broadfoot.
The Passano Collection contains more than 400 books and shorter documents dating from 1837 to 1994, including first-hand narratives written by women of the Civil War era. Important individual volumes include a first edition Lee of Virginia (Edmund Jennings Lee) owned by the Lee family and annotated by them, Lincoln's order declaring Confederate blockade runners to be pirates, and numerous captivity narratives by Southern women and men taken prisoner during the conflict.
The Mencken Collection:
Sara Haardt Mencken, a Goucher alumna (1920), collected the personal letters and published works of her husband, Baltimore newspaperman H. L. Mencken, and her collection was increased by a bequest from Francis Mitchell Froelicher containing books and papers acquired by Dr. Hans Froelicher, Professor of Chemistry and former acting President of Goucher College. The Mencken materials include forty books by Mencken, including translations, as well as books edited by Mencken and articles he published in his long career as a news reporter and essayist.
Among the noteworthy volumes in the collection are "association copies" of works by important American authors signed with dedications to the Menckens, including works by Theodore Dreiser, Ellen Glasgow, Ring Lardner, and Sinclair Lewis. Among the manuscripts in the collection are several hundred manuscript and typescript letters recording the courtship of H.L. Mencken and Sara Haardt, begun she was a student at Goucher College.
The Brownlee Sands Corrin Collection:
Professor Corin taught politics and communications at Goucher from 1952 to 1985, and collected a wide variety of primary source materials documenting the popular culture of his era, including Broadway playbills, sheet music, political campaign buttons, advertisements, and other materials. These kinds of materials are extremely important to Communications' students interested in popular culture of the '50s, '60s, and '70s. The total size of the collection is estimated to be in the "thousands." Because of the wide variety of objects involved, each of these sub-collections needs cataloging separately and as a part of the whole collection.
The Twain Collection:
Eugene Oberdorfer began collecting Mark Twain editions before his marriage to Lala Hirsch (Goucher 1924), and after his death, Mrs. Oberdorfer donated the collection to Goucher's Special Collections. The 253 volumes are in their original bindings, but also they have been housed in beautiful gold-stamped calf faux bindings that are actually conservation quality book boxes. In addition to some modern biographies and scholarly studies of Twain, the collection includes first and subsequent editions of all Twain's works except the first American first edition of "The Celebrated Jumping Frog of Calaveras County," though he does have a very interesting first London edition with a "copyright chapter" to authenticate the edition and distinguish it from pirated editions. These editions include volumes issued serially in Harper's Magazine, as well as magazine publications (some pirated?) during MT's lifetime. The online catalog lists seventy-two items as belonging to the collection. To call them up, search "Oberdorfer" and "Modify Search" to "Location" as "Special Collections."
In addition to these named collections, the college archives also contain numerous documents and records relating to college history and the activities of famous alums. To learn more about working in Special Collections, please contact one or more of the students currently involved in cataloging, description, analysis and conservation projects.