ENGLISH 211: English Literature Beowulf to Dryden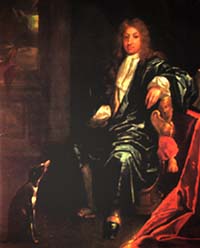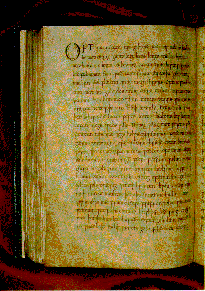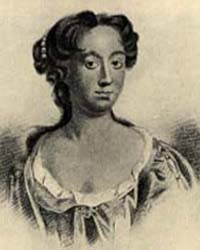 John Dryden (1631-1700) "The Wanderer" MS (c. 965) Aphra Behn (1640?-89)
Section .01 / Fall 2012
Instructor: Arnie Sanders [Click here for all course web pages, CV, recent research, etc.]
Department of English, Goucher College Office Hours, 11:30-12:30 MW, and by appointment Page last updated: 01/11/2013 02:43:05 PM
Recent site news--1/11/13: The course Web site is resting up for Fall 2013. If you have questions about the literature we read in 211, please do not hesitate to email or talk to me.
C16-17 Authors in Time: Who Was Alive When, and What Was Published in their Lifetimes?
Sign-up Web page for Spring 2013 pre-registration conferences for Arnie's advisees, and for students planning imminent presentations. Please email me a number of possible times you could meet, not just one, so that I have some power to concentrate my advising schedule. Thanks.
Concordances: A concordance is a word list of all words used in a given work or by a given author ("whole-corpus"), alphabetically listed with context for each use of the word. For instance, if you wished to know how often Shakespeare used the word "mad" or Marlowe used the word "magic," a concordance will tell you, and it will take you to each use in context. Concordances are immensely useful for thematic analysis of usage. For most authors, try Mitsu Matsuoka's concordance site at Nagoya University (Japan) that covers nearly all our authors in the second half of the semester, plus rather a lot from 212. Here's the URL--bookmark it against future need!: http://victorian.lang.nagoya-u.ac.jp/concordance/ If you do enough close-reading analysis, sooner or later you should want to see how and where your author used specific key vocabulary in other works. He does not include Shakespeare's works, but the Open-Source Shakespeare Project hosts an excellent whole-corpus concordance at this URL: http://www.opensourceshakespeare.org/concordance/ A similar single-author concordance to the works of Chaucer is hosted by Gerard NeCastro at the University of Maine, Machias: http://machias.edu/faculty/necastro/chaucer/concordance/
Levels of claim in a thesis--a Web page for my English 104 students, but useful to think about re: theses about literary interpretation.
If you are considering taking either English 330 (Medieval Literature) or English 215 (Critical Methods) in Spring 2013, you can see a previous syllabus and other materials here: http://faculty.goucher.edu/eng330; http://faculty.goucher.edu/eng215/. In fall 2013, I will again be teaching English 241 (Archeology of Text), the book history course: http://faculty.goucher.edu/eng241. Naturally I would shamelessly promote all of these here. Please let me know if you want to talk about any/all of them.
Link to In-Class Performance Schedule
Poetic "Feet" Terms Poetic Meter Terms Rhyme Scheme in Stanzas Stanza Structure Greek Origins of Poetic Genres
http://estc.bl.uk/F/?func=file&file_name=login-bl-estc The English Short Title Catalogue (ESTC)--the "Amazon sales rank" tool for figuring out the popularity of authors and titles published between 1473 and 1800.
For the bibliographic research extra credit option for those who want to raise their Class Participation grade and/or are interested in working with rare books, see the "Getting to Know Some Old Things Very Well" project over-view page and the attached links. Twice during the semester, over a period of about 3 weeks each, students may make appointments to study specific rare books relevant to the course in Special Collections and produce a short investigative paper describing what they have found. Extra credit will be added to the Class Participation grade before the final grade is calculated, and it is negotiable by discussion with the instructor.
---
Two general pieces of information:
From your friends at the Academic Policies Committee of the faculty: "Academic Honor Code: Reference to the academic honor code is required of all course syllabi as a reminder to students. Suggested wording includes: Reminder: All students are bound by the standards of the Academic Honor Code, found at www.goucher.edu/documents/General/AcademicHonorCode.pdf." Consider it done, folks. I, Arnie Sanders, believe that you would sooner submit to amputation than let another's words be passed off as your own, because you recognize that literacy gives you a chance to make your words live forever, or at least for as long as people read the language in which you write them. Nevertheless, I also have noticed more casual cut-and-paste theft of unacknowledged sources in freshman writing, so if you are a sophomore and did not unlearn that habit in freshman composition, be forewarned that I will detect it and be deeply disappointed as I try to decide whether you intentionally committed "mugging-by-plagiarism" of another author or are merely badly trained. (The former cases go to the Honor Board and the latter get only one chance to make amends by submitting a revision, after which they will be watched carefully for relapses.) More worrisomely, students are increasingly content to cite sources long after their prose has begun to borrow ideas from those sources. That is technically plagiarism, too, but it has become so common that I must spend gallons of ink and hundreds of keystrokes un-teaching it. Never make me guess whose ideas I'm reading. Cite sources when you first depend on them. I want to know how well you can think, not how well your sources can think, which is a matter of historical record for anyone who reads them. Let there be a bright line of fire between ideas that are originally yours and those of other writers to which you refer. One last reminder: you have to cite primary sources and list them in your Works Cited section, especially now that you might be using either the 8th or 9th edition of the Norton.
If you are a rising sophomore and if you believe you want to major in English, you also should register for English 200 this fall to prepare yourself to write for the major. It is not a prerequisite for English 211, but students who have taken or are taking 200 have a significant advantage in 211 over those who have not.
---
Course Description

English 211 introduces you to British authors, works, genres, ideas, and movements which will help you understand the development of the English language and its literature from its earliest inceptions to the emergence of Modern English in mass market print production. During this period, English culture was transformed from a small group of feudal kingdoms, each based on landed wealth controlled by a hierarchical aristocracy and the church, to a single nation-state ruled by a parliamentary government and based on an international capitalist trading empire that reached from the Appalachian Mountains of North America to India in the East. For English majors, the course's emphasis on the "big picture" will provide essential context for interpretations of works studied at greater length in upper-division courses. For non-majors and majors alike, the course offers the chance to explore your language's heritage in the works of its most influential and talented writers. Our goal is to surrender to these texts long enough to experience their effects upon an audience of competent readers, and to separate ourselves from them with enough insight to detect the strategies by which they subjected us to "the dream of the text."
Before the first class meeting, please read the "Syllabus View" and "Bottom Line" pages to see how the course is constructed and what graded work will be considered for the final course grade. Read the "Text Book Purchases" page for important advice if you are going to buy the books early and read ahead. If you are worried about how to remember and understand what you read for the course, click here for my single best piece of advice about how to study. To understand how the syllabus was constructed and English 211's main goals for its students, read this historical overview of the course's readings and this rationale for why you should care about this course. These three short descriptions of Old English (the language of the Anglo-Saxon tribes in England), Middle English, and Early Modern English also will help you understand the course's historical/linguistic "flow." Around Thanksgiving of each semester, we finally break through into Modern English when reading literature produced during and after the English Civil War (1642-59). You would do well to read a bit about what distinguishes "modern" mentalities from "pre-modern" ones. It's a huge cultural and psychological leap.
The Norton Anthology has included women writers only in the comparatively recent history, and women writers still are under-represented in typical print surveys of early literature. Click here for the Brown University Women Writers Project: (Goucher College users only--subscription account.) You can find additional works by early women writers at the Emory Women Writers Resource Project at Emory University's Lewis H. Beck Center.

---
since August 31, 2007 reset. Last year, between August 29, 2006 and August 31, 2007, we had 5086 hits. Between September 2, 2005 and August 29, 2006, this page had 4414 hits. Between August 30, 2004 and September 2, 2005, this page had 4984 hits. The year before it had 3506 hits, and the year before that it had 3198 hits.
---